---
This country is full of great sites. This post will introduce some of the nice historical sites in the South-West.
The number of jungles, waterfalls, caves or temples, big Buddhas is endless. I want to show you as much as possible of these natural or man-made sites. You can learn more about this beautiful country and get an idea what and where to visit next time you are here.
Again we travel from north to south. Start off south-west of Bangkok, leaving the Big city on interstate No 4.
---
Samut Sakon Fish Market
Really just outside of Bangkok, I found this amazing fish market. Thais from all over the country come here to buy fresh and dried fish or sea products. These products then get sold everywhere in Thailand.
To walk around this very busy market is lots of fun. It stretches around the Mahachai train station. Reaches the river and you can cross over with a ferry to see more on the other side. To get there with your car is a bit complicated but I made it too.
It is interesting to see, how this old and traditional trading center works. Not many tourists arrive at this place. For me, it is a must for exploring real Thailand. The Market opens around 8 in the morning and lasts all day.
---
Nakhon Pathom Phra Pathom Chedi
One way to get out of Bangkok, to the southwest, is by following the highway 4. First, you want to get to Om Noi, which is very busy during rush hour and then drive direction Nakhon Phantom.
This quite famous old town is worth seeing. Right in the center, you find the Phra Pathom Chedi. A great sight in the evening. All kinds of foods are sold around the Temple and many Thai visitors enjoy the holy site.
The train serves Nakhon Prathom too. Once you are there you should also see the old center of  Sanam Chandra Palace. About one kilometer from the Chedi to the west. A big Park with a little Zoo, many lakes, and beautiful buildings let you have a relaxing and interesting sightseeing the day.
---
Petchaburi
About fourteen km. south of Cha-Am, you can visit the Huai Sai Wildlife  Breeding Centre. 
Phetchaburi town is a historic royal city, going back to the 8th century. Still here to visit is the originally Khmer temple, Wat Kamphaeng Laeng.
Righ in the center of town is the impressive Wat Mahathat Worawihant. This building shows the skills of art craft of local workers. The beautiful white structure can be seen from far away.
Phra Nakhon Khiri Historical Park, sits in the hills of Khao Wang, over the town of Phetchaburi. It consists of palace and old temples, built in different architectonical styles.
Only two km. to the south you find Khao Bandai It. A 121 meters tall mountain again with ancient temples and three sacred caves.
This province, reaching from the golf of Thailand to the border of Myanmar, can be an interesting place to discover. The beach of Cha-Am is called one of the most famous in Thailand and is the residence of the King's summer palace. It is the palace of love and hope, Maruekhathaiyawan Palace.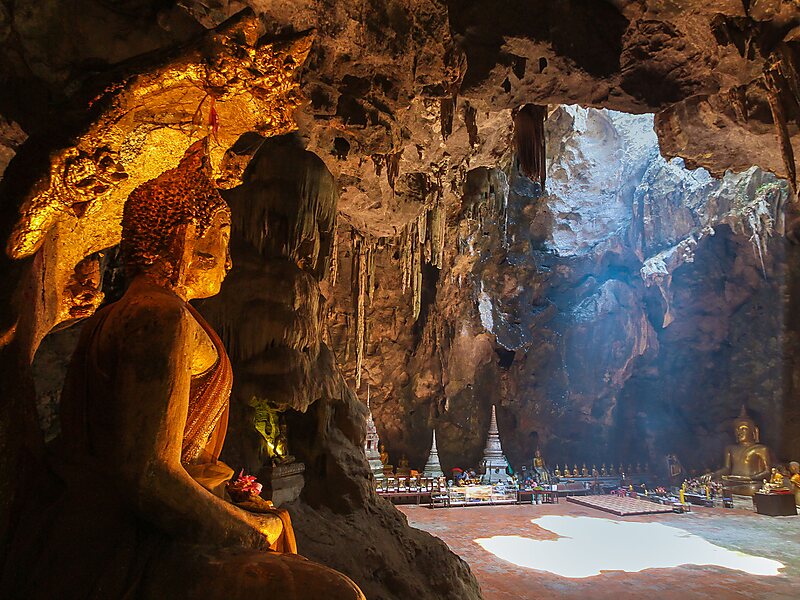 Tham Khao Luang 
About four km. north of Phetchaburi, in the Mount Khao Luang, is the great cave, "tham" with impressive shrines and Buddha statues.
Also midtown you find Wat Yai Suwannaram. 
The 300-year-old angel paintings are nice to see, as well as the wooden carved preaching throne.
The last two sights in and around Phetchaburi town are Wat Kamphaeng Laeng, a more antique sight, and Phra Ram Ratchaniwet, a palace built by King Rama V, 1916.
There are always very many temples in old towns like Phetchaburi. I am sure you will be able to discover even more interesting sights around this town.
Kaeng Krachan National Park, Thailands most sizeable national park. Great areas of this almost 3000 square km. are still undiscovered.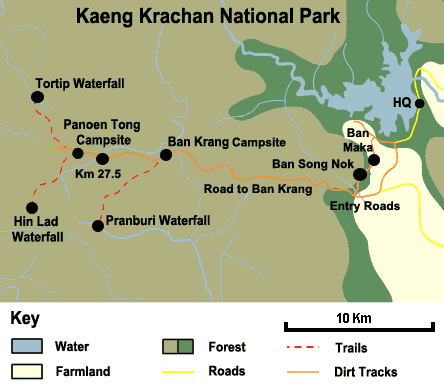 The perfect place to explore some Asian nature by foot. Guided trails, with camping overnight, through the bush is sure something for the ones that like some adventure. An amazing variety of wild animals is living in these woods.
The Kaeng Krachan park is not very much visited, either from tourists nor Thais. Some trails you are allowed to enter without guides and hike around but need to register at the head office first. Others you can hike with a guide for several days with your own tent and food for all.
There are also trips with rafts or 4 wheel drive available, these arrangements can be made also at the headquarters of the park.
To get there you can take a bus or drive yourself from Hua Hin or Phetchaburi.
Make sure to have the right equipment, like shoes and rain jacket.
Lao Song or Thai Song Dam Tribal Villages
---
Prachuap Khiri Khan Province
To the south from Phetchaburi lays this very slim province. Apart from nice natural parks along the seaside with hills, forests, and waterfalls, you can also enjoy more modern entertainment near Hua Hin Beach.
Vana Nava Hua Hin Water Jungle, a place you do not want to miss if you are here with your kids. This Jungle looking attraction has waterslides and obstacle course as well as multiple pools.
Black Mountain Water Park, another water park for the family to enjoy. Pools, slides, and restaurants invite to stay for entertaining three or four hours of freshwater fun.
Another tourist attraction on the mainland near Hua Hin is the Sam Phan Nam Floating Market. 
Hua Hin is the most developed corner in this region. Many tourists and retired foreigners share this beautiful space here. Not one of my favorites but still worth seeing.
More a natural site would be the Phraya Nakhon Cave.
By foot hard to reach, in the middle of the Tenasserim Hills, you can also take a longtail boat. But there is a steep stretch of 430 meters to climb to get to the cave.
Inside the cave, you can see the symbol of Prachuap Khiri Khan Province the throne of King Rama V.
Between 10.30 and 11.30 the sun shines on the throne, then is the best time to visit this magical sight.
Make sure you wear good shoes and bring enough drinking water.
Khao Sam Roi Yot is the main national park in this district. The mountain with 300 peaks is about 58 km. south of Hua Hin. It's limestone rock formations stretches over almost 100 square km. and is populated by some rare animals. at the seaside, you might see the rare Irrawaddy dolphin.
---
Chumpong
The rather small district of Chumpong has a few nice things to see and do. First, of course, are the beautiful beaches, which are quite unpopular to tourists and therefore rather quiet and unspoiled.
If you want to visit Kho Tao, the paradise for divers and snorkelers you find three piers to catch a boat, ferry and car ferry to the destination. Get informed early of departure times as they can be a bit early or late in the day.
My Chumpon favorite
A place called Coral Beach, Chumko, Pathio is almost unknown to tourists but looks beautiful with its palm tree and large rocks decorating a crescent-shaped beach. Thung Wua Laen is the main beach of this district and also quite unknown to foreign visitors. 
Mo Ku Chumphon National Park is the most exciting attraction in this area. It offers boardwalks which lead you to mangroves and over creeks, through the jungle and over mountains. It is possible to stay overnight inside the park. Camping sites and bungalows are available for a reasonable price.
Hat Sai Ri is another place you might want to visit whilst here. Here you also find a white sand beach, surrounded by pine trees. A great view to the many small islands and colorful boats in front make a nice scenery. The nearby monument of the late Admiral Prince of Chumphon with an old submarine warship adds a little insight into history.
The downtown of the small town of Chumpong you should visit The National Museum of Chumphon. On two floors it shows an overview of prehistoric to current presentation of the district.
---
Surat Thani Province
The biggest province in the south-west of Thailand. Surat, as it is called here has a long history, reaching back to the third century. The capital town is Surat Thani which means, the city of good people.
The city of Chaiya is to be one of the oldest cities in Thailand. In the north of the province lies this small town of about 50.000 people. An ancient temple, Wat Phra Borom That, and the nearby national museum reflect some of the town's struggles and history.
The nearby forest temple, Wat Suan Mohkha Phalaram or Wat Than Nam Lai, which means the temple of the flowing water, has some significance to the locals. It was a so-called rice temple, which means, it guarded big amounts of rice during the Japanese invasion.
This beautiful video can show you some insights into the history and work of this place.
---
Surat Thani City
To stay in Surat you best locate yourself near the riverbanks of the Tapi river. Old buildings good food and a lively atmosphere around the market and night market make the place quite attractive. Boat trips on the Tapi river let you see a beautiful scenery through palm tree farms with traditional farm buildings.
The city, also called Surat, is for most travelers just a transit station to get to the islands Kho Samui, Kho Pan Ngan or Kho Tao and to Phuket, Krabi or Bangkok.
Unfortunately, the many tourists passing the place has attracted a lot of fortune seekers which will try to sell you all kinds of tickets for far too high prices. My way to avoid these kinds of frauds is to sit down where buses or boats leave and watch the scene for a while.
I try to find out where the locals buy their tickets and how much they pay. Be especially cautious with aggressive sellers, don't let them rush you. Never buy tickets where no locals buy them.
---
Monkey Training College, 24 Moo 4, could be interesting to see. It is about 8 km out of town and shows how the monkeys get trained to collect coconuts from the high palm trees. This practice is very common in this region and coconut farming is a big part of the economy of Surat Thani Province. 
Four big National Parks are in this region. To the south, the Tai Rom Yen National Park. About 425 square km of natural forest. Some waterfalls and a lot of trees but not too easy to see and for a big part not accessible.
In the north of the province, you can find the Kaeng Krung National Park. A huge mountainous area all covered with evergreen forest. Nice to visit are the hot springs and the two waterfalls, Bang Hoi and Khlong Pa. There is also a variety of wild animals in the bush. See Map.
Khlong Phanom National Park is connected to the famous Khao Sok National Park. The tall limestone mountains, some waterfalls, and diverse caves make the visit attractive for a day trip.
The most famous and accessed National Park in the region is the Khao Sok National Park. It is on the west side of the province and features trails into the rainforest. The 11 step Waterfall (Namtok Sipet Chan ) and Namtok Than Savan are favorite sights to visit. At the Lake Cheow Lan, made of Ratchaprapha Dam, are guesthouses and boat trips available. 
To drive from the east coast to the west coast right through the Khao Sok national park is a sight you won't forget. Lush wild forests with steep limestone rocks along the way, you drive through valleys and over hills.
Almost halfway sits the small village, Khao Sok. Some resorts, the most famous one the tree house resort, and many restaurants and gift shops invite for a stay. It is here where you enter the national park and book the trails and boat trips into the fantastic exotic nature.
---
Khao Luang
To the south of Surat Thani is the highest mountain in south-west Thailand. The highest point is 1780 meters above the sea level. When you visit the Khao Luang National Park you experience a fresh and often rainy climate. The hottest temperatures of 28°C are measured between February and April and in the cold season, in January and February, it can get 15°C.
A huge amount of exotic plants and animals can be found in these evergreen forests about 30 kilometers west of the Nakhon Si Thammarat town. 300 different types of orchids are shown in the park and more than 300 species of animals live in the forest around the mountains.
---
Nakhon Si Thammarat
One of the oldest towns in Thailand with now about a little more than 100 thousand habitants lays near the east coast of the Malay Peninsula. It is the location of Wat Phra Mahathat Woramahawihan, the most important temple of southern Thailand. It was built the same time the town was founded, around the year of 775 AC
The 2009 renovated chedi is 78 meters high and 137 smaller chedis are built around it. There are also antique Buddha statues, elephant heads and demon giants to be seen.
The Viharn Kien, to the north, houses a small temple museum.
Another famous attraction of this old town is the city wall. It was probably built in 1278. Today remains a smaller part of about 2700 meters in all with one portal in the north left.
---
Our unique guided trip to the southern Thailand
---
More interesting posts
---
Was this of any help to you?
---
Donation                                                                                                                    
Help the world to be a better place
Dragon Fly Farm's Donation Plan