Now you get to see most islands reachable from the west part of South Thailand. Some have their own airports, most you reach by boat.
I again start on the top east coast and follow down, then get back up on the west coast. I have to reduce the number of islands I can show, there are too much. Some small islands are secret and can not to be visited by everyone. Here the most known and easy to get to Islands. For the special smaller ones you can get informed at the tourist centers in Thailand.
---
A wonderful island especially if you like to snorkel or dive would be Ko Tao. You get there by speed boat and can by your trip right here.  There are many different resorts to stay on Ko Tao so it's worth to have a look around.
I stayed on the back of the island for a few months in a resort which wasn't open then but sure is now. There I enjoyed the most beautiful sunrise. It was very isolated and a bit hard to get to, steep streets to a rocky coast.
Ko Tao is a divers paradise, not a party island, and not too much to see on land. The water is amazing, clean and clear, you see all kinds of coral fish just looking in the sea from a rock on the coast. Rent a motorcycle to get around, or stay at the entry village with many diving schools.
Beware you visit nature, try to respect guidelines that are made to protect this nature. Ko Tao is a breeding ground for green turtles and hawksbill sea turtles. Around the island live more than 220 species of coral fish and 130 different species of hard corals. Ko Tao is one of the worlds most beautiful diving sites and likes to stay like that. There is a lot of effort taken to improve the unstable situation. So please don't just think of yourself, but for a future generation that might want to enjoy the beauty of Ko Tao too.
---
This Island with a perimeter that you can walk in one day, 40 km. has bays and beaches all around. It belongs to the Samui Archipelago and stays in the middle between Ko Tao and Ko Samui. Here a lot of backpackers love to come and enjoy the not too expensive offers.
Ko Pan Ngan is famous for the full moon parties that are held regularly at Haad Rin Nok Beach. Once a month you can count on a party with around 30'000 people at the beach. Another party, half moon party is held in the bush near Ban Tai. Today, Police are more careful with controlling drug possession today, so be careful and don't use drugs.
The government is trying to make the island attract more families, as it has so much attractive nature sites and a good price level.
---
---
Ko Samui is the biggest sister of these three. It is also the most exclusive and expensive one. If you want to stay in a really beautiful clean beach resort and don't think about money too much you want to look for it on Ko Samui.
The island is not only that of course. Thousands of tourists enjoy the easy island life on Ko Samui. You can find places in all price categories.
The infrastructure is well built out on the island where you can get western food and all conveniences families and "normal" tourists don't want to miss.
Ko Samui is quite big and has its own airport. There are also ferries, on those you can easily bring your car or bike. To have a vehicle on this exciting island is of great benefit due to the size and the many small bays and beaches you might want to discover.
---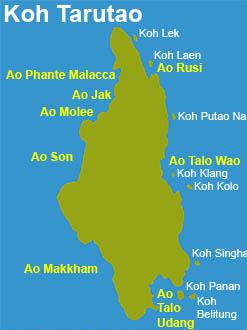 Ko Tarutao is one of the last untouched islands you find in the Andaman sea. With a  size of about 26*11 Km., and most of it is a natural park, you still find bungalows and rooms in a price range of 500 to 8000 Thai Baht. Get more info. A diverse range of wildlife survived on land and in the water.
---
This island belongs to the Krabi Province. Beautiful mangroves and limestone formations together with rain forests and many beaches make this wonderful island a top destination.
Booking.com offers deals from as little as 350 Thai Bath per room and night. If you like snorkeling, water fun and nature pure you might want to spend your holidays or at least a few days on this island.
---
These pics show the difference between high and low season on Pipi Island. To Pipi Island, you get from Phuket town by boat, ferry. It is a very small island and full of resorts. A small village, and many beaches, snorkeling sites and diving opportunity. You don't need a car or bike there. If you travel without a woman, be careful, every girl, woman will love you.
During high season, it can be very crowded on Pipi. Make sure you have a reservation if you want to spend Christmas or New Years on the island. The island is very popular for one-day trips as well.
I was on Pipi once, I loved the ambiance and I must say it is worth seeing. A lot of nightlife, beautiful beaches and not expensive rooms. There is a Muay Thai place, very entertaining.
Boat rides to small close by islands like the famous Beach movie island can be arranged here. Another favorite for many tourists is to join boat trips around the island to beautiful snorkeling sites or just enjoy the great views at the exotic island from the sea.
---
A small island you also reach from Phuket, has been developed only after the big tsunami. A very beautiful place to snorkel and dive and enjoy the whit beaches and clean water. There are some few places you can stay over night.
Most visitors come here for a day trip. Food and drinks are quite expensive and not always of best quality, maybe bring some of your own. But the corals with the amazing fish make that up many times. Have a look.
---
These were a few of the bigger examples of wonderful islands in the south west of Bangkok. I hope you enjoy the selection and find the right destination for you.
---
Our unique guided trip to the southern Thailand
---
Enjoy more interesting posts
---
Was this of any help to you?
---
Donation                                                                                                                    
Help the world to be a better place
Dragon Fly Farm's Donation Plan