Moo Kata, the most famous food in Thailand
This is the way to eat on a Thai birthday" moo kata", pork pan.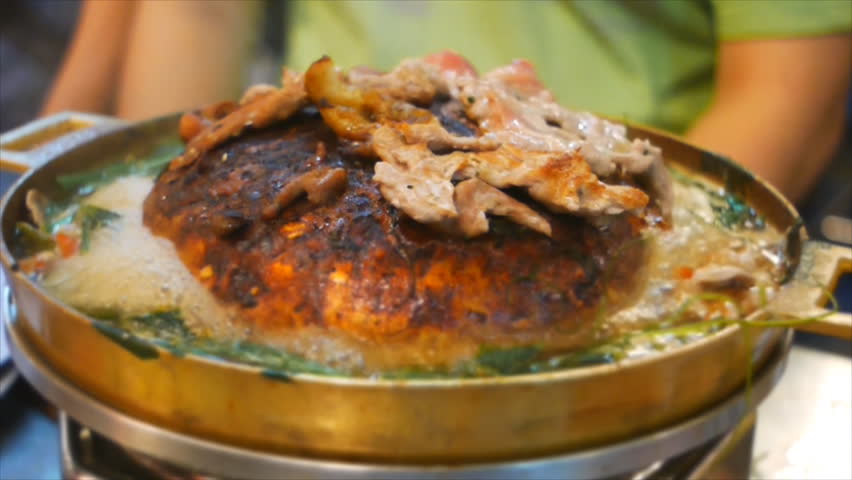 You get an aluminum special hot pan on your table. Either its heated electric but mostly with charcoal. This pan contains a soup, in which you can cook your favorite ingredients. In the center, the hut, you fry, roast your meats. This is what everyone likes to eat in Thailand. It is buffet like. There are many, many things to chose from.
 In front of our guesthouse, we ate many moo kata
Your kids will love it too. It's not only pork but all kinds of meat, vegetables, mushrooms, sea food, sauces, salad and desserts all for one price. You will pay a little more than an ordinary everyday meal but still not expensive. For around 4 to 5 dollars, 150 Thai bath one person can eat as much as he can as long as he wants. Go there when you are really hungry and try all you like. Be a little careful, go eat where Thai people eat, the fresh food is more likely guaranteed than in restaurants made for tourists.
We do pork pan at home too on special occasions. It's fun to sit together in a big round and eat till you can't anymore. Thai people LOVE to eat.
Recipe
---
Contact
Was this of any help to you?
If you have any questions or something else you would like me to know, please feel free and comment at the bottom of this page. Thank you!!!
---
Donation                                                                                                                      
Dragon Fly Farm's Donation Plan
---
Also see these posts
Thai food                                   Music and Books                                      General about Thailand
Reviews                                     From A to B with me                                Travel Shop
---
Promotion
| | | |
| --- | --- | --- |
| | | $49.93 |
| | | |
| --- | --- | --- |
| | | $42.99 |
$19.75

$11.16